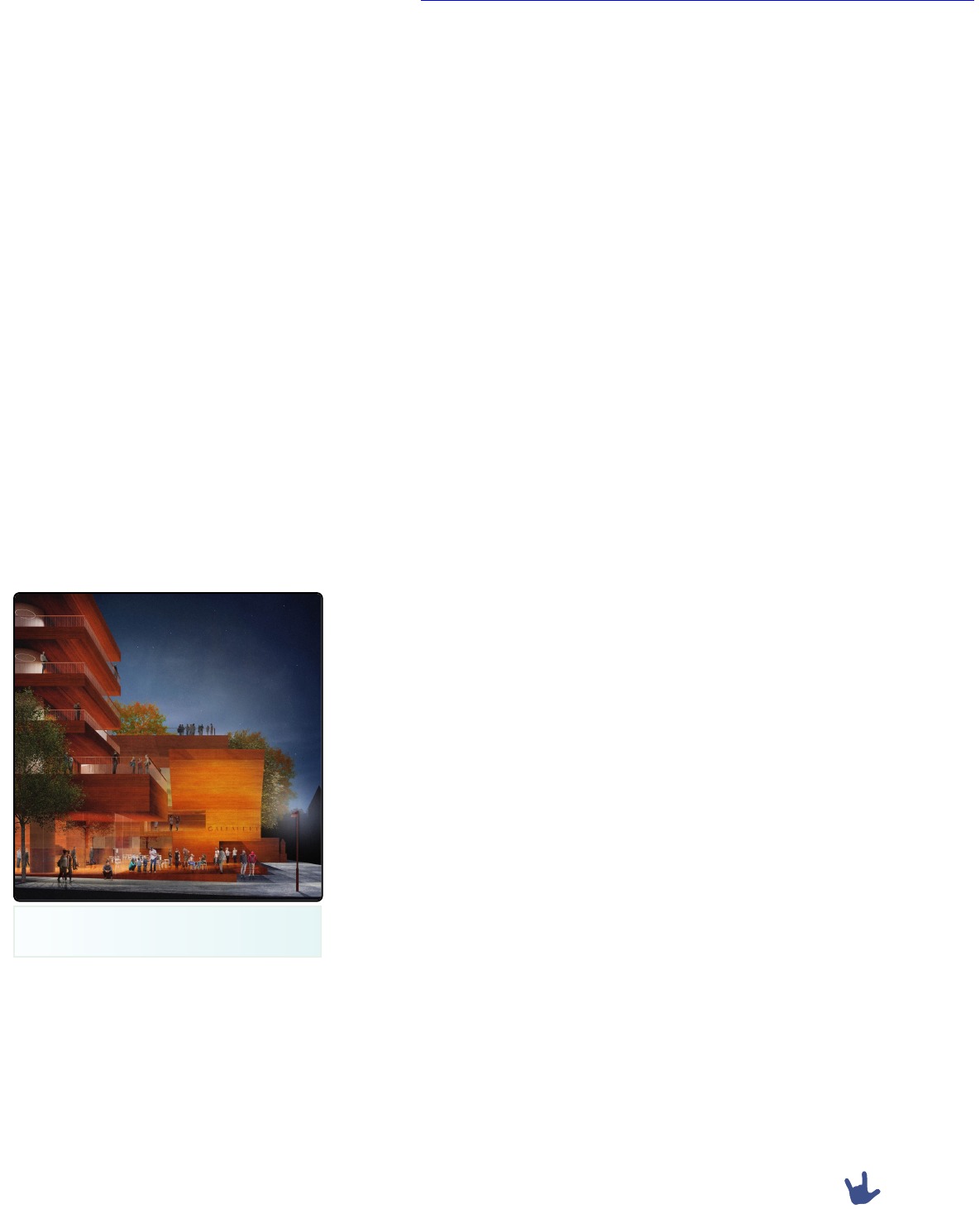 27
The Rise of Deaf Architecture
https://www.washingtonpost.com/news/magazine/wp/2019/09/12/feature/the-rise-of-deaf-architecture/
September 12, 2019
Bauman, now Gallaudet's executive director of
campus design and construction, recalls that
at one point, the group toured the university's
existing audiology booths in the basement of
a building that would later be demolished. For
many in the deaf community, those spaces bring
back horrible memories — being tested inside
them as children and told, from a hearing person's
perspective, that something was not quite right.
As the group walked among the booths, they
reected that the sound chambers looked a little
like gas chambers. "If you ever doubt the kind of
experiences a building can convey, these would
make you a believer in the power of architecture
to infuse emotion," says Bauman, who, though
hearing, instinctively signs in American Sign
Language (ASL) as he speaks.
Over two days, the attendees discussed what
they wanted in their new building, and their ideas
crystallized a design and architectural philosophy.
DeafSpace, as it's come to be called, seeks to
create buildings and public areas that arm the
experience and culture of the deaf and hard-of-
hearing — for instance, by ensuring that spaces
are conducive to signed conversations.
The resulting building, the SLCC, ushered in a
new era of design at the 155-year-old university
— and today, DeafSpace principles are poised
to transform the surrounding neighborhood. In
2007, discussions began about re-envisioning
the Sixth Street NE corridor that runs along the
western edge of campus. After years of wrangling
— a community group that was suing to stop
the development lost its last appeal in March —
the school now expects to break ground in 2021.
Once completed, the Sixth Street Development
will almost certainly be the rst spot in the United
States outside the university to use DeafSpace
design and architecture ideas in public spaces.
Once completed, the Sixth Street Development
will almost certainly be the rst spot in the
United States outside Gallaudet University to
use DeafSpace design and architecture ideas in
public spaces.
Richard Dougherty is a deaf Irish architect with
Hall McKnight, a Northern Ireland rm that will be
designing part of the Sixth Street Development.
He and I communicated via video conference
recently to discuss both the ideas of DeafSpace
and how they will be applied to the project. (He
used Irish Sign Language through a female inter
-
preter with a strong Irish lilt.)
Shortly into our conversation, Dougherty gave
me an example of spatial awareness dierences
between the hearing and the deaf. He mentioned
how, to him, a hearing dinner seems so formal,
with people rmly stationed at square tables. By
contrast, during a deaf dinner, people are contin
-
ually in motion, switching seats to touch one
another or communicate directly with someone
across the table. "For me," Dougherty signed, "a
deaf space is a multisensory experience. It's not
just what does it look like at face value. What is
the experience of being deaf once I go through
the door? What is the experience of me getting
through the foyer? To the staircase? What's the
lighting like? What's the material being used in
the building?"
He then described the house he lives in with
his deaf wife and two deaf children. It is an old
Edwardian home with roughly six-foot-wide
hallways so his family can communicate while
they walk, and oorboards that vibrate when
stomped to grab someone's attention.
Sign language is vital to the concepts of
DeafSpace. If you are hearing, imagine a space that
through acoustics prevented you from adequately
communicating. That's how plenty of deaf people
feel about architecture and design that includes
narrow sidewalks and entryways, sharp angles
that limit sightlines, or terrible lighting.
You can nd several of these design aws at Union
Market, across the street from Gallaudet's campus.
To be sure, the space is in some ways friendly to
deaf people: Many of the food vendors employ
deaf or hard-of-hearing baristas and cashiers. Yet,
when I met Bauman there on a July afternoon, I
was aware that the sharp corners of food stalls
interrupted sightlines, and that the summer light
streaming through the windows was blinding at
times.
Bauman agreed. "See that shine out there —
that's unbelievable," he said. "If this were a signed
conversation, I would probably have to get up. If
all of your attention is with your eyes, your eye
fatigue is wearing on you, you're getting tired.
So much of the design principles around the
language goes back to minimizing eye fatigue."
We left the market so he could show me the layout
for the Sixth Street Development, which entails
four parcels of land, two on the eastern side of
Sixth Street, on Gallaudet's campus, and two on
the western side that are separated by Union
Market. Gallaudet bought the lots in the 1970s,
when real estate in the area was cheaper than it is
today. While each parcel will contain elements of
DeafSpace, the two western parcels will be meant
to match the ow and energy of Union Market,
and so will likely use fewer DeafSpace principles.
Bauman and I crossed Sixth Street toward Gallau
-
det's campus and walked along a university
parking garage that will be demolished when
construction begins. In its place will be a building
with ground-oor retail, businesses run by
deaf entrepreneurs, perhaps even a theater, all
built using DeafSpace ideas. When the building
is complete, a corridor will be formed on the
Gallaudet campus between this new building and
a row of faculty housing that has been there since
the campus was rst designed by famed architect
Frederick Law Olmsted. Bauman calls this corridor
Creativity Way, forecasting that it will showcase the
ingenuity of both the Gallaudet community and
the broader deaf world — through the businesses
that set up in the space and also through possible
artistic performances. Others involved in the
project, including Dougherty, call this part of the
development "the front porch," suggesting that it
will evoke the ethos of communities — deaf and
hearing, university students and local residents —
coming together.
Jay Klug has been working on the project since
2013, when Chevy Chase, Md.-based developer JBG
Smith — where he is an executive vice president
Early rendering for a Gallaudet University building
submitted by the design rm Hall McKnight.
(Courtesy of Hall McKnight Architects)